Music Releases:
Msaga Pore – Zaire Ngoma I (Album)
Katoi Wa Tabaka & The Mijikenda Jazz Band – Mijikenda (EP)
4 The Mzinga (Loops & Samples)
4 The Mzinga – Debut Album (Kilifi, Kenya)
An Noor – Nitakotoa Nyumbani (Re Work) Lamu, Kenya 
4 The Mzinga – Shamba Boy (Kilifi, Kenya)
Founded in 2021, the project serves as an inclusive platform for artists of the various East African musical traditions to showcase their styles and be introduced to a wider audience, bringing music from this underrepresented geocultural sphere closer to listeners from all over the world. For that, the team visits musicians of traditional backgrounds and captures their performances in sound and image.There are three main objectives at heart of Music From East Africa.
Firstly, in a rapidly changing society, recording the richness of its traditional music contributes to the conservation of otherwise non-material cultural heritage.
Secondly, by putting artists on the map and promoting them, Music From East Africa aims to create knock-on effects for musicians so that they can make a livelihood of their craft by releasing music and playing live shows via the platform.
Thirdly, the mutual encounter of musicians from different styles, both traditional and modern, gives access to an uncharted terrain of fusions and remixes, bursting with exciting new sounds and possibilities.
Having started off along the coast of Kenya, Music From East Africa will travel further into all directions of the subcontinent and continue to create inspiring bonds between extraordinary musicians and audiences.
Music from East Africa – Recording Tour 2021 & 2022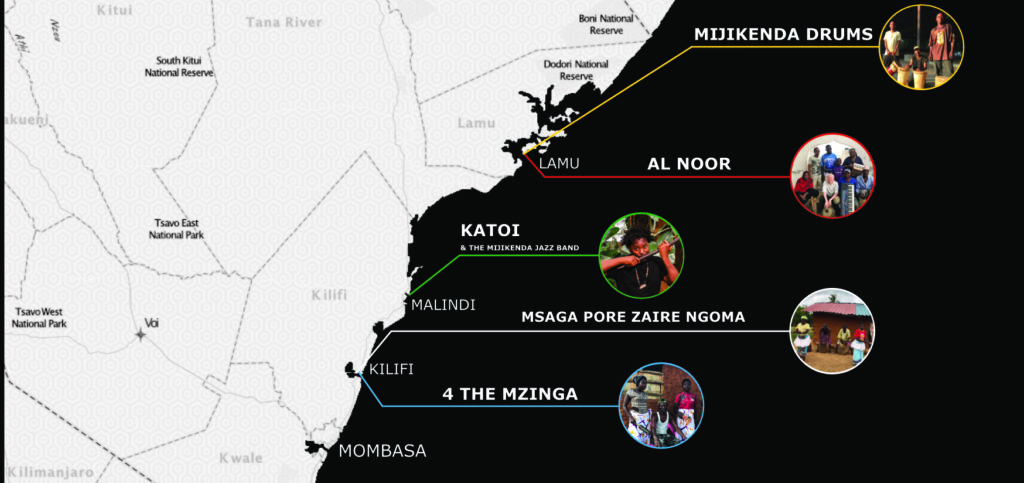 AUDIO PREVIEWS & DEMOS (Original Recordings)
Mijikenda Drums (Lamu/ Kenya)
An Noor (Lamu/ Kenya)
Katoi & Mijikenda Jazz (Malindi, Kenya)
4 The Mzinga (Kilifi/ Kenya)
Msaga Pore Zaire Ngoma (Kilifi/ Kenya)